Total Solar Eclipse, November 13.
A total solar eclipse will be visible in the Southern Hemisphere on November 13.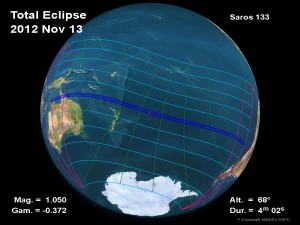 Eclipse first contact begins at approximately 20:36 UT on November 13 and continues until approximately 23:48 UT on November 13. Live streaming of the eclipse is available at http://www.ustream.tv/cairnseclipse2012. Please go to
http://eclipse.gsfc.nasa.gov/SEmono/TSE2012/TSE2012.html
for many more details concerning this eclipse. An interactive map is available here.
Written on November 13, 2012 by jack