One week from today: Transit of Mercury, May 9 2016
Mercury will transit the disk of the Sun on May 9 from 11:20 to 18:45 UTC. This is a rare event, and it will be observed by the Solar Dynamics Observatory.  The last transit observable from the Earth was on November 8, 2006 and the next one won't be visible until November 11 2019. Remember:
Never look at the uneclipsed Sun with unprotected eyes!
Always use sun-safe optics to look at the Sun.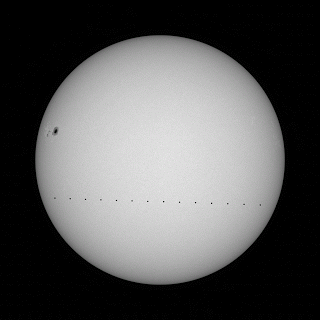 The row of black dots indicate where Mercury will pass.  SDO will be making special observations of the transit, and will be providing near-real time updates of images as they come.  These observations allow SDO scientists to better understand how the Sun is oriented on SDO's cameras.
Helioviewer will also be providing the images SDO.  Check back on May 9 2016 to watch Mercury transit the Sun!
Written on May 2, 2016 by jack